Internet of Radio Light project demonstrates world first 5G Indoor System at Global 5G Event and EUCNC 2019
Internet of Radio Light (IoRL) project demonstrated 5G Indoor System at Global 5G on 17th June and EU- CNC on 18-21 June in Valencia, Spain in collaboration with Viavi Solutions Ltd, Leicester University and Eurescom Ltd on behalf of the EU Horison 2020 research project: Internet of Radio Light (IoRL) for which Adam Kapovits is the Project Manager and John Cosmas is the Technical Manager.
The IoRL team from left to right: Mukhald Salih (Brunel University), Nawar Jawad (Brunel University), John Cosmas (Brunel University), Adam Kapovits (Eurescom), Kareem Ali (Brunel University) and Hequn Zhang (Leicester University and Viavi Ltd).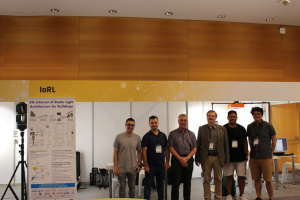 The objective of the demonstration was to present the principle of operation of the main concepts of the IoRL architecture to vertical industries in particular the building Industry.
The demonstration showed end-to-end streaming of video over a mmWave imbedded within a light system shown in picture below. The system has the potential of providing Gbit/second in each room in a home with a latency to the home gateway of less than 0.5ms and with three or more light systems has the potential of estimating the location of a user terminal to 10cm accuracy.
Brunel University is responsible for Network Function Virtualisation and the Software Defined Network which introduces intelligence to the home network whilst Leicester University and Viavi Ltd is responsible for the Radio Access network and the User Test Terminal.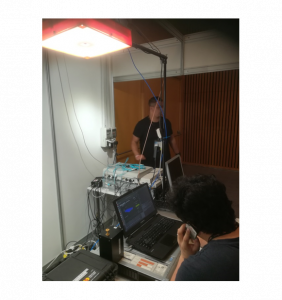 Much interest was shown by visitors from industries all over the world to the stand with an average of 30 visitors per day over the main two days of the exhibition, which kept the presentation team busy.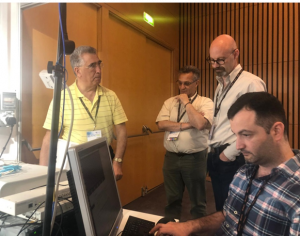 The Brunel University, Viavi Solutions Ltd and Leicester University team showed that we can pack up the experimental system into 4 boxes in half a day, ship it across the world in two days, reconstruct the experimental system in half a day and demonstrate it. Then ship it all back within a week.
Part of the Brunel team (John Cosmas, Nawar Jawad and Mukhald Salih) also co-authored this year's version of a highly influential and sited European Union white paper titled: Simone Redana, Ömer Bulakci et al "5G PPP Architecture Working Group View on 5G Architecture" EU-CNC 2019, Valencia, Spain 15th June 2019.
Brunel team consisted of Mukhald Salih, Nawar Jawad, John Cosmas and Kareem Ali (from left to right in below picture).